Admitting Clerk
Lower Umpqua Hospital District
Full Time - Work at Location Address
Added on: 09/23/2023
Description
Admitting Clerk
Employment type: Full-Time
Department: Patient Access/Admitting
Location: Hospital
Reedsport, OR 97467
JOB SUMMARY:
The Admissions Clerk is responsible for registration of patients presenting to the facility for emergency room; outpatient and inpatient services. This includes explanation of hospital policies, payment for services and routine patient inquiries. May include going into Emergency room to obtain information. Duties also include contacting Insurance companies by phone or fax, to inform them of admissions into the hospital. During lag times, this clerk will assist with data entry or special projects as assigned.
ESSENTIAL DUTIES:
1. Admits patients to the hospital, inpatient, outpatient, and emergency room, accurately and completely in a timely manner according to the priorities listed above.
2. Complete understanding of emergency situations, i.e., fire, disaster and in-house emergencies.
3. Data Entry or special projects as assigned.
4. Eligibility verification; medical necessity checking; collection of deposits/payments.
5. Working knowledge of all departments and staff, including administrative personnel.
6. Deal with all manner of public contact and inquiry.
7. Keep work area neat.
8. Must work closely with all departments in a helpful and courteous manner.
9. Must be able to fill in for other office employees as needed.
10. Must portray a professional image.
11. Other duties as assigned by supervisor.
12. Back up switchboard as needed.
QUALIFICATION REQUIREMENTS:
Education and License:
High School Diploma or equivalent, required.
Certifications
Experience:
Hospital admitting experience, preferred.
Additional Qualifications:
1. Ability to multi-task essential, with emphasis on accuracy and productivity. Demonstrate ability to use time wisely.
2. Calm, professional demeanor in stressful situations.
3. Good verbal communication skills.
4. Must have Data entry/keyboarding skills-40 WPM.
5. Working Knowledge of l0 key calculator.
WORK ENVIRONMENT:
Works indoors in an air-conditioned environment.
PHYSICAL DEMANDS:
Frequent use of computer and phone, and other standard office machines. Must be able to stand, sit, stoop, twist, kneel, reach, push, pull using proper body mechanics and move/lift varying amounts of weight to a maximum of 50 lbs.
This is a Full-Time position that is eligible for benefits.
Meet the Owner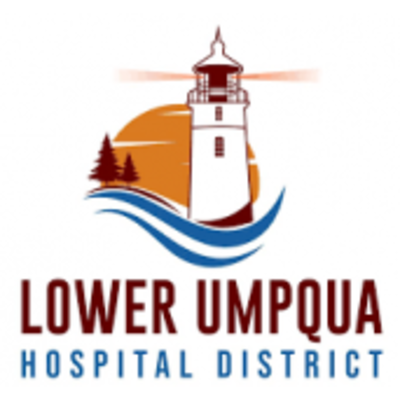 LUH
Owner
In the early 1950's, a non-profit corporation called the Lower Umpqua Association was formed to deal with the need for local medical care in coastal Douglas County.In 1954, a Lower Umpqua Area Hospital District was formed that included the Reedsport, Winchester Bay, Gardiner and Scottsburg areas. Donations from the community and three major lumber companies, as well as tax levies, formed the ... more ancial base with which to start a new hospital. With the help of a Hill-Burton grant, a federal grant to aid in building rural area hospitals, the hospital was built in the early 1960s.The hospital, built in the form of a modified Maltese cross, opened February 3, 1964 with eighteen acute care beds and twenty-two nursing home beds. Equipment to furnish the rooms and various departments was donated by civic and fraternal groups and individuals in the community. Dr. Rickard W. McLean was the first Chief of Staff, and an elected five-member Board of Directors administered the affairs of the hospital under the auspices of the Lower Umpqua Hospital District.The hospital was managed by independent hospital administrators until 1977 when A.E. Brim and Associates, Inc., hospital management consultants, were hired to manage the hospital. less